The Okanagan Rail Trail was created by converting the former CN Rail line that runs from Coldstream to Kelowna into a multi-use pathway. The 50 km long trail connects three lakes with stunning views and an easy 1.3% grade. It is a significant walking and biking route that benefits all the communities along the way.
Vernon is connected to the Okanagan Rail Trail by a multi-use path that runs from the City Centre through Polson Park and along Kalamalka Lake Road, ultimately connecting to the trail head on College Way in Coldstream. For more information, see our Community Bike Map.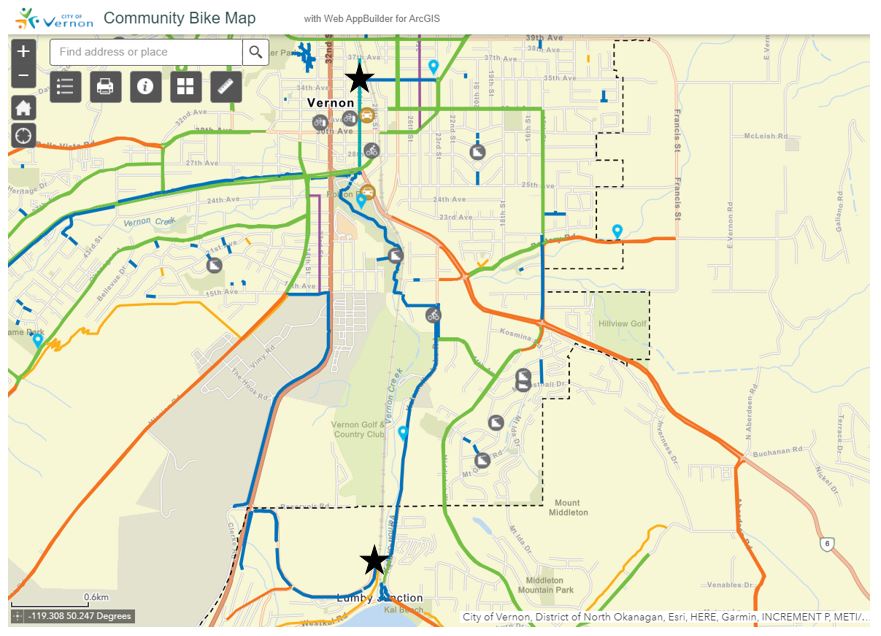 As of January 2022, the Okanagan Rail Trail is not currently continuous. The nearly 7 km section between Old Vernon Rd. north of the Kelowna International Airport to the Kelowna/Lake Country boundary is not yet developed. The North Okanagan and Lake Country sections are surfaced with compact crushed aggregate, and the developed section in Kelowna is paved.
For more information and a map of the trail, visit okanaganrailtrail.ca.
For construction and maintenance updates, visit the RDNO website.